Comfort and Lifestyle Tips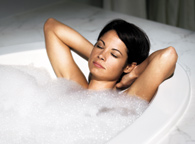 Natural Gas Heating Systems
Consumers choose natural gas heat because it's comfortable, reliable and efficient. Today's heating systems range from high-efficiency units at 90+ percent efficient to a standard system at 80 percent efficient.

Natural gas heat feels warmer than heat produced by an electric heat pump. Natural gas heat is delivered from a forced-air system at a temperature of approximately 120°F. In contrast, the air from an electric heat pump is delivered at 85°F - 95°F. Warm enough to heat a room, but cooler than skin temperature of 98.6°F.

Water Heaters
A water heater is the second biggest energy user in a typical home, next to the heating and cooling system. There are two types of water heating systems, the conventional tank system that stores and heats water in a tank until it is needed, and the demand or tankless water heating system.

A traditional natural gas tank water heater costs less to operate and heats water twice as fast as an electric water heater. Tank units are available in medium to high efficiency (or condensing) models.

The tankless hot water system heats the water as needed, so there is no energy wasted on keeping water in a tank hot. Gas-fired tankless water heaters are very energy efficient, provide an endless supply of hot water and take up very little space.

Cooking with Natural Gas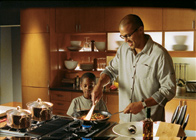 Just as most professional chefs insist on cooking with natural gas, "everyday" cooks recognize that natural gas offers even heat, excellent temperature control and instant on/off settings for cooking and baking. Cooking with natural gas is also economical. It costs about half as much to cook with a natural gas range as with a similar electric range.

Natural Gas Standby Generator
Mother Nature can have a huge impact on our quality of life by taking out electrical power to homes and businesses. If you lose power and your home is equipped with a natural gas fired standby generator, electrical power is restored to your home within seconds. The generator senses a power outage and begins to produce power immediately. A standby generator automatically delivers the power you need and the security and peace of mind you want. The system automatically transfers electric supply back to the utility line when power is restored.

The reliability of the natural gas delivery system during weather events ensures the standby generator will operate when it is needed the most.

Natural Gas Grills
An outdoor grill is the centerpiece for outdoor entertaining. A natural gas grill never runs out of fuel and is easy to use. Plus, it can take as few as six minutes to reach 600°F. A natural gas grill is perfect for outdoor specialty foods as well as grilling hot dogs and hamburgers.

Natural Gas Lights
Natural gas lights add charm, value and security. Gas lights attractively illuminate patios, walkways, gardens and pool areas. Some models call to mind a nostalgic Victorian, Gothic or Colonial era, while contemporary lights look great with modern style of home.

Natural Gas Clothes Dryers
Natural gas clothes dryers are more energy efficient and gentle on your clothes. You can dry two loads of clothes in a natural gas dryer for the same amount of money to dry one load in an electric dryer.

Natural Gas Logs
With natural gas logs, you can enjoy the warmth and comfort of a fire without the hassle and clean up of wood. Natural gas logs heat your home more economically and are more environmentally friendly than wood or pellets. Gas logs are available in a variety of sizes and models. There are two basic types: vented and unvented. Ask your local fireplace retailer about which model is right for your home.