Safety & Reliability
Natural gas has the best safety and reliability record of all traditional energy sources. Generally, natural gas accidentally released in the open will vent harmlessly into the air. However, when a gas and air mixture within the flammability range collects in a confined space, it can ignite accidentally. Natural gas in its raw state has no smell or color. That's why we add a "rotten egg" odor to make you aware if gas is leaking. If You Smell Gas, leave the area immediately and call 1-866-322-8667 or 911. We will send a trained technician to investigate.
Winter Safety Tips
It's important to keep your gas meter and house vents clear of snow and ice. To learn more about winter safety tips, click here.
Call Before You Dig
To locate and mark buried utility gas, electric, cable and telephone lines, call 811 at least three business days before digging begins. It's safe, it's free and it's the law.
Teach Your Children About Safety with Natural Gas Safety World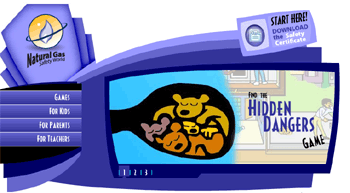 Natural Gas Safety World and Energy Efficiency World are interactive websites that encourage children, parents and teachers to learn about natural gas while engaging in fun activities intended to promote safety and conservation.
Additional Resources
Natural Gas Safety And You (.pdf)
Texas Pipeline Awareness Alliance
Damage Prevention Awareness Brochure (.pdf)
Frequently Asked Questions: Safety Information
www.call811.com